Knowledge Base
PIONEER DVR-S201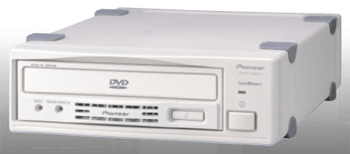 The DVR-S201 is Pioneer's professional AUTHORING DVD-R drive - capable of buring both 3.95 GB and 4.7 GB AUTHORING media, this drive will be capable of creating Master DVD discs for replication using the CMF format.
FEATURES:

AUTHORING Drive - for Professional use


EXTERNAL MOUNT - SCSI Interface


Uses 635 NanoMeter Laser Wavelength


Can write DDP Header Information


Can write Macrovision bits


Can NOT write CSS Encryption Keys


Can create a CUTTING MASTER DISC


Writes DVD-R (DVD-Video) at 1X Speed


Doesnt write DVD-R/W, CD-R or CD-R/W


Complete 4.7 GB disc written in abt. 1 Hr.


Can store roughly 2 hrs of DVD-Video


Compatible with DVD Studio Pro


ONLY uses DVD-R AUTHORING Media!


Burns 3.95 GB OR 4.7GB Authoring Media


CAN MAKE A REPLICATION MASTER